Later this week President Barack Obama will likely invoke America's civil rights struggles from past to present during his visit to Selma on Saturday.
The nation's first Black president plans a speech from the Edmund Pettus Bridge, the site of one of the Civil Rights Movement's most stirring moments, and will refocus attention on last year's fatal shooting by a white police officer of a black 18-year-old in Ferguson, Missouri.
Recommendations were expected to be delivered soon from the president's Task Force on 21st Century Policing, appointed after Michael Brown's death in August. Attorney General of the United States Eric Holder has said he expects to announce results of his department's investigation of the case before he leaves office,  and that word could come within days.
Meanwhile, the White House task force called for independent investigations when police use deadly force, a particularly controversial recommendation that law enforcement has traditionally resisted. It also found the need for more police training to reduce bias and help officers deal with stressful situations.
"The moment is now for us to make these changes," Obama said from the White House during a meeting with members of the task force. They worked for three months to develop 63 recommendations after holding seven public hearings across the country that included testimony from more than 100 people. The panel also met with leaders of groups advocating for the rights of blacks, Hispanics, Asians, veterans, gays, the disabled and others.
"We have a great opportunity coming out of some great conflict and tragedy to really transform how we think about community law enforcement relations so that everybody feels safer and our law enforcement officers feel — rather than being embattled — feel fully supported. We need to seize that opportunity," President Obama said. "The importance of making sure that there's a sense of accountability when in fact law enforcement is involved in a deadly shooting is something that I think communities across the board are going to be considering."
President Obama's actions are an important gesture toward the Black community, which strongly backed him in his two White House races and will be critical for Democrats in the 2016 presidential campaign and their efforts to retake control of Congress.
Former President George W. Bush and his wife, Laura, also plan to be at the Selma commemoration, and a large bipartisan congressional delegation planned to be a part of a three-day civil rights pilgrimage to the state hosted by U.S. Rep. John Lewis, and his organization, the Faith In Politics Institution.
Lewis helped lead a group of civil rights protesters in a march from Selma to Montgomery across the bridge on March 7, 1965, but White police officers and militiamen beat and tear gassed them on the Edmund Pettus Bridge. (The bridge is named for Pettus, a lawyer, Confederate officer, U.S. Senator and Grand Dragon of the Realm of Alabama's Ku Klux Klan in the late 1800s.)
The president visited the bridge in 2007, when he was a U.S. Senator from Illinois and a presidential candidate. This time, he plans to bring his entire family.
"When I take Malia and Sasha down with Michelle next week, down to Selma, part of what I'm hoping to do is to remind them of their own obligations. Because there are going to be marches for them to march, and struggles for them to fight," Obama said at a White House event on March 26 celebrating Black History Month.
Restoring Voting Rights Act Still An Issue
The Rev. Raphael Warnock, pastor of Ebenezer Baptist Church in Atlanta, where Dr. Martin Luther King, Jr., once preached, said voting rights and criminal justice reform were the main topics of a private meeting Obama held with civil rights leaders shortly before his public remarks on his upcoming speech.
"There was agreement in the room that voting rights is crucial, that it is urgent and it ought to be a nonpartisan issue," Rev. Warnock said.
He decried lawmakers for celebrating Selma's golden anniversary while failing to restore the Voting Rights Act. In 2013, the U.S. Supreme Court in a bitter 5-4 decision struck down the Act's section that determines which states and jurisdictions were required to get Washington's approval for proposed election changes, saying that the 50-year-formula to determine was outdated and therefore unconstitutional. The requirement was an effective way to stop voting discrimination, mostly in the South. Congress has yet to come up with a new formula.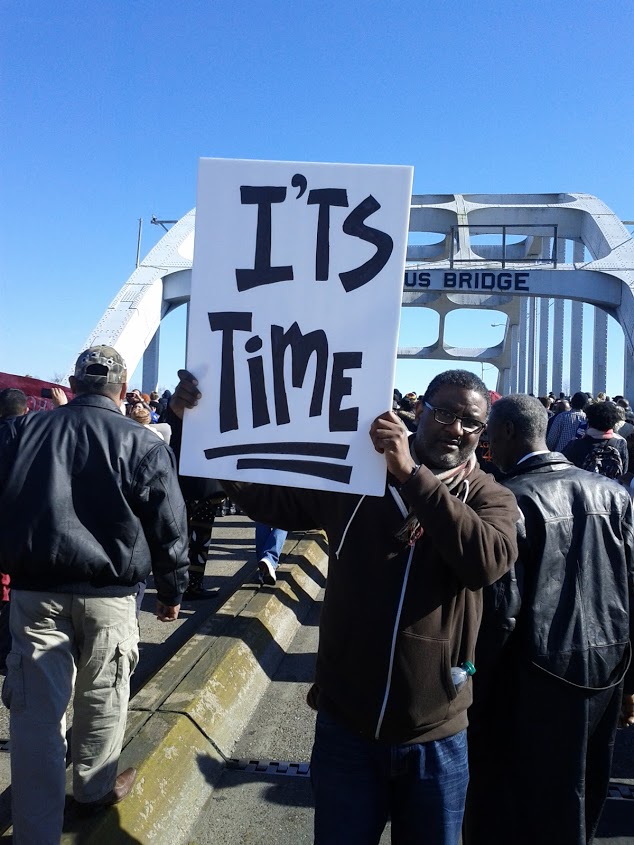 "The worst assault on voting rights since the Voting Rights Act was passed is happening right now," Rev. Warnock said. "You can't celebrate Selma and sit on the reauthorization."
Rev. Warnock said Obama's presidency has been a living tribute to the sacrifices of the generation that protested in Selma and elsewhere to promote civil rights. But he argued that a recent discussion among possible 2016 Republican presidential candidates over whether Obama loves his country is one example of how Obama's election has highlighted continuing racism in America.
"I think there are people who still traffic in the narrow alley of bigotry, and I think that there are politicians who sell bigotry as a means of elevating their argument or a narrow partisan interest," Rev. Warnock said.
Obama's Monday meeting with the police task force follows the three-month deadline he set for recommendations about how police can build trust, accountability and transparency with the communities they serve.
Sources: AL.com, US News & World Reports, and the book Selma by Sharon J. Jackson.
1466 Total Views
1 Views Today