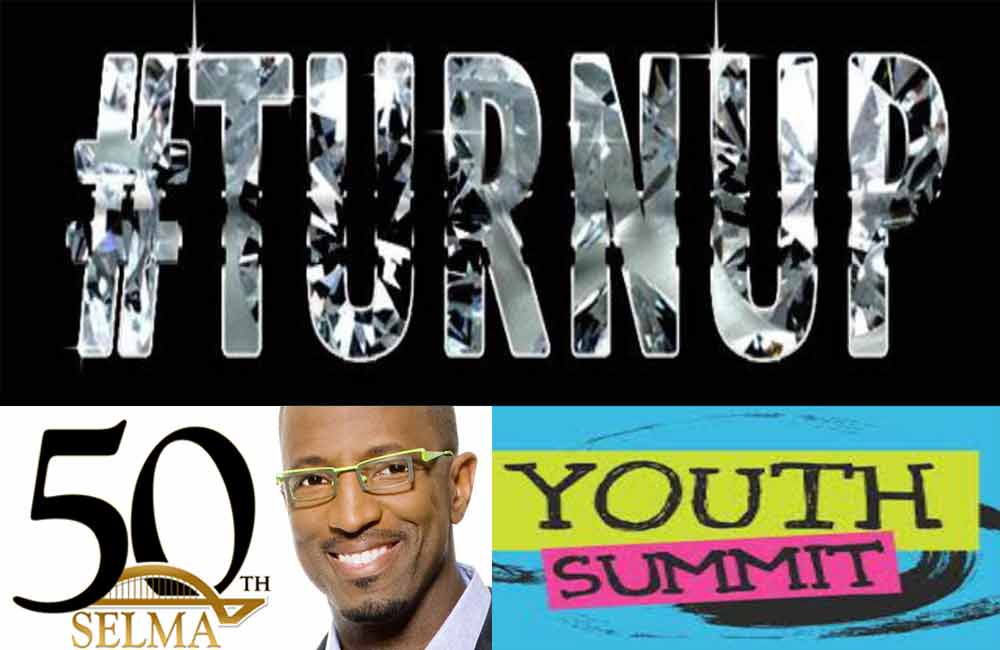 An extraordinary group of nationally and internationally renowned next-generation leaders and veterans of the voting rights movement will convene for Selma50 to discuss the past and set a course to tackle modern-day civil rights issues.
The Turn Up! Youth summit takes place on Saturday, March 7, from 11 a.m. to 2 p.m. at the School of Discovery, J.K. Pickard Auditorium, 100 Washington Street, in Selma. It will also feature national comedian and Birmingham, AL native, Rickey Smiley, as the guest speaker.
"We have gathered together some of the key leaders from the past to share their knowledge and experiences with young leaders from across the nation to learn more about the Movement that opened doors of opportunity for their generation," says Jerria Martin, coordinator of the 21st Century Youth Leadership Movement in Selma, AL, which organizing the summit. " They will learn lessons from the struggle for voting rights and the importance of participating in our electoral process, to pondering ways we can alleviate the problems young America is currently facing."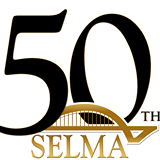 The summit is divided into three panel sessions. The first session will consist exclusively of veterans of the voting rights movement and other important movements. The second features youth and young adult leaders, under 35, who are currently immersed and well versed in today's movements. The third and last session will consist of the combined seasoned and young leaders in conversation with each other to discuss passing the torch from one generation of freedom fighters to the next.
The panels conclude with a special address from Smiley.
Youth panelists are:
Jonathan Lewis of the Positive Peace Youth Network (a national nonviolence organization), who is the protege' of historic civil rights leader Dr. Bernard Lafayette, a co-founder of the Student Nonviolent Coordinating Committee (SNCC);
Marypat Hector, National Youth Director of Rev. Al Sharpton's National Action Network;
Cierra Taylor, Political Director for the Dream Defenders, a Florida-based activist organization that grew out of the Trayvon Martin murder case;
Jamira Burley,  Executive Director of the City of Philadelphia Youth Commission;
Jeremy Ponds, Youth Director for the Southern Christian Leadership Conference (SCLC);
Aaron Wazlavek, a representative of the AFL-CIO in Northwest Florida. He's a national organizer for other major unions and grew up in activism and has been on the front lines with SCLC for a number of events; and
Camiella Williams, a former gang member in Chicago who was embroiled in a morbid web of death and violence until her pregnancy and motherhood motivated her to turn her life around into a gun reform activist.
Adult panelists are:
Sheyann Webb-Christburg, Dr. Martin Luther King, Jr.'s "Smallest Freedom Fighter" and co-author of the book, Selma, Lord, Selma. As an eight-year-old, Sheyann Webb-Christburg took part in the first attempted Selma to Montgomery march across the Edmund Pettus Bridge on March 7, 1965, known as Bloody Sunday.
David Turnley, a Pulitzer Prize winning photojournalist and former personal photographer and advisor to Nelson Mandela during his presidency. He is the author of Mandela! Struggle & Triumph.
Martin L. King, III, a human rights advocate and community activist and entrepreneur co-founder of Bounce TV. He is the eldest son and oldest living child of civil rights leader Dr. Martin Luther King, Jr. and Coretta Scott King.
Che Smith, a Chicago hip-hop artist whose first official album, Blue Collar, was released on July 11, 2006. He co wrote Kanye West's "Jesus Walks", which won a Grammy at the 47th Grammy Awards.
The Youth Summit is one among many free and paid events taking place during the Selma50 commemorative events honoring the 50th Anniversary of Bloody Sunday and the Selma-to-Montgomery marches that led to passage of the 1965 Voting Rights Act. Click HERE to see more events scheduled in Selma and HERE for other events.
1534 Total Views
1 Views Today