Birmingham, AL (July 22, 2014) – The two-day TASTE OF 4TH AVENUE JAZZ FESTIVAL returns to downtown Birmingham's Historic 4th Avenue District Downtown on August 23rd-24th with its soulful sampling of local and national talent that highlights the city's rich musical heritage.
Presented annually since 2003, the TASTE OF 4TH AVENUE JAZZ FESTIVAL is a dynamic event featuring local, regional and nationally renowned jazz artists. The FREE festival is a signature community event providing first class entertainment, a diverse selection of food vendors, children's village, and an art exhibits for all ages and tastes.
The festival area is situated on Fourth Avenue North between 16th and 18th Streets North in Downtown Birmingham. Entertainment on both days begins at 2 p.m.
2014 Taste of 4th Avenue Artist Line Up:
Saturday, August 23 Headliner: Saxophonist-band leader-composer-arranger-producer KIM WATERS. Waters over two decades as a music superstar with 16 Top Ten and 14 #1 singles, 4 #1 CDs and sales in excess of two million album units
Sunday, August 24 Headliner: Former professional basketball player, gospel, jazz keyboardist producer, recording artist, songwriter and author BEN TANKARD. Tankard is the world's best-selling gospel-jazz musician and producer of all time. (15 Gold/6 Platinum records), 12 Stellar Awards, 7 Gospel Excellence Awards, 2 Vision Awards, 1 Blue Mic Award, 8 Dove Award Nominations, 3 Grammy Award Nominations.
Local and Regional Artist: Sean Michael Ray, Gabbie McGee, Foxxy Fatts & Company, Unknown Lyric, Gabriel Tajeu, Sherry Reeves, Choko Aiken Band, On Purpose featuring Dwight Houston and Alabama Jazz Hall of Fame Allstars under the direction of Ray Reach.
About the Festival
TASTE OF 4TH AVENUE JAZZ FESTIVAL is organized and managed by Urban Impact, Incorporated, a non-profit 501c3 organization and is FREE. See more details at the website www.4thAvenueJazz.org,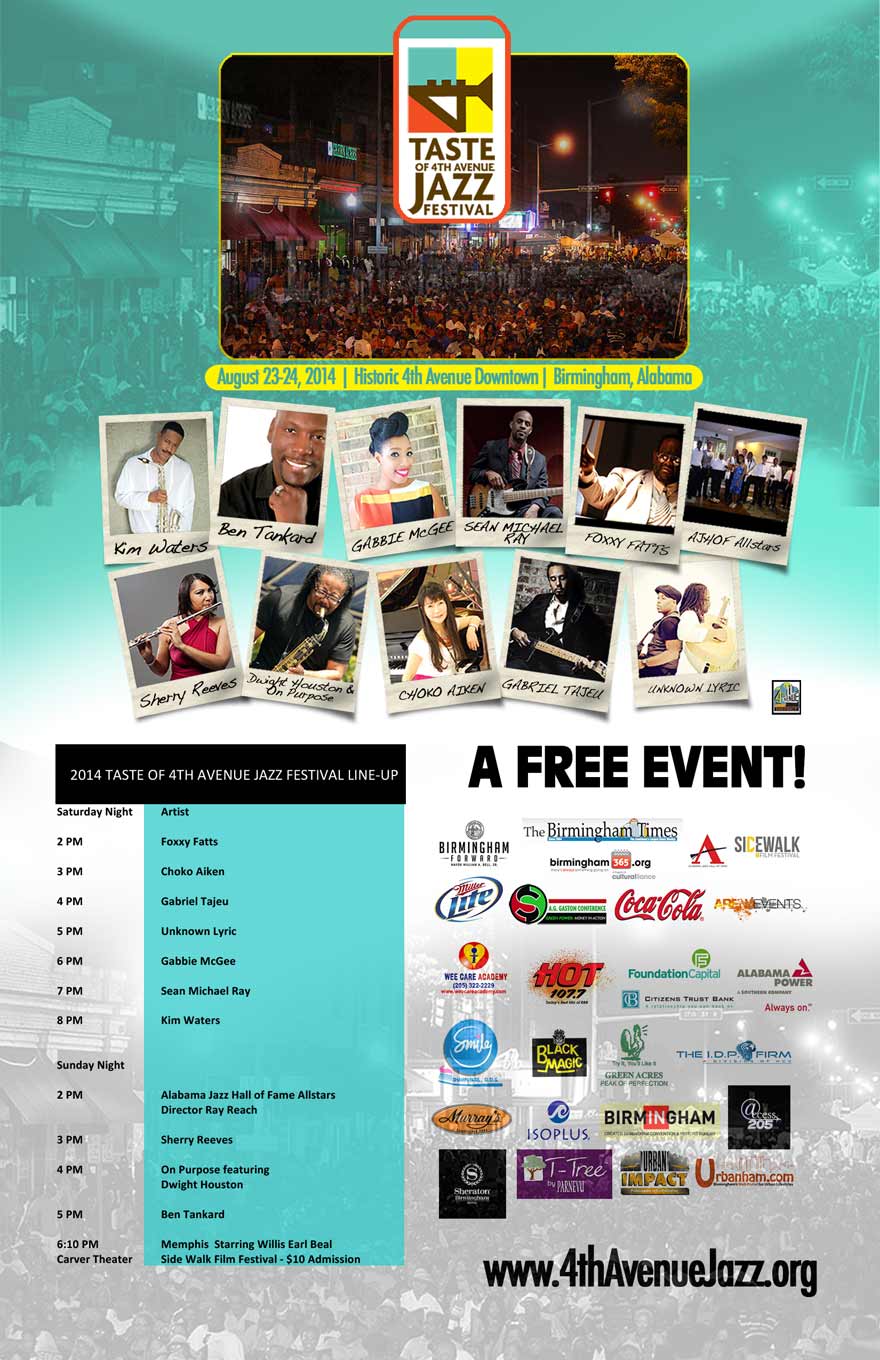 Contacts:
Chandra Bell: 205-820-9314 (office); 205-876-7305 (cell)
Nathan Hicks: 205-820-9313 (office); 205-533-1523 (cell)

For years, the Taste of 4th Avenue Jazz Fest has been one of our favorite things about Birmingham. The energy is an infectious mix of family reunion and community gathering where everyone is welcome to enjoy great music.
Click on the image below to enjoy the video mash-up that we created in 2008, and you'll see what we mean.
2588 Total Views
2 Views Today