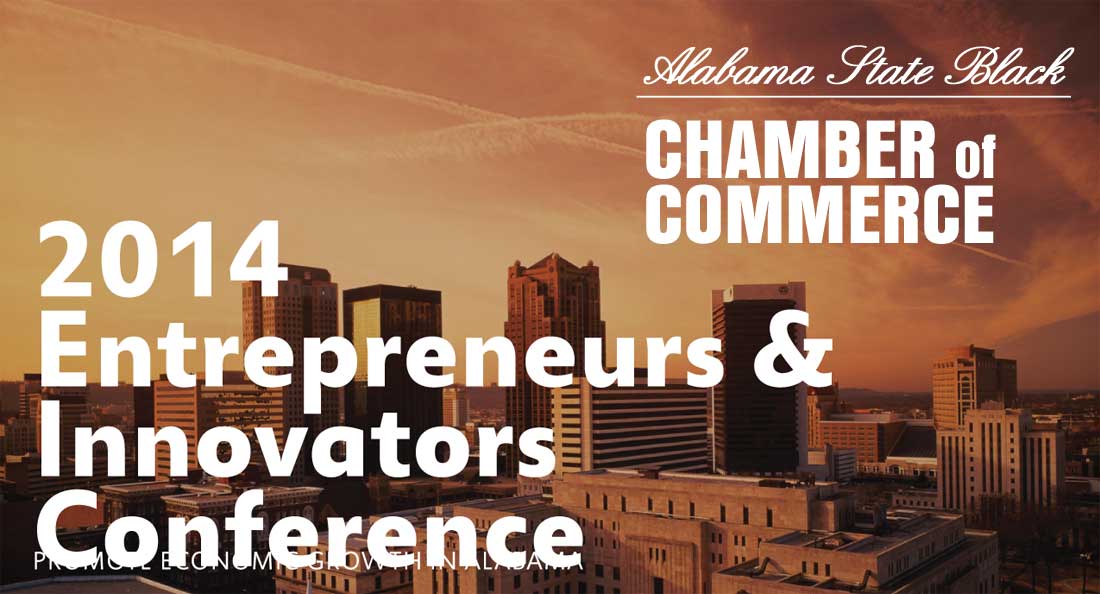 What do a former U.S. Congressman, a designer for late South African President Nelson Mandela, a small business maven, a musical arranger for Stevie Wonder, Alabama's top business leader and a little black boy from Rosedale all have in common? They are among the main speakers headlining the 2014 Entrepreneurs & Innovators Conference set for June 19-20 in Birmingham.
Innovative entrepreneurs and business leaders, bestselling authors, technology experts and creative gurus offers conference goers with two days of inspiration and insights, networking and learning, all focused on driving economic growth in Alabama through entrepreneurial activity and financial business prosperity.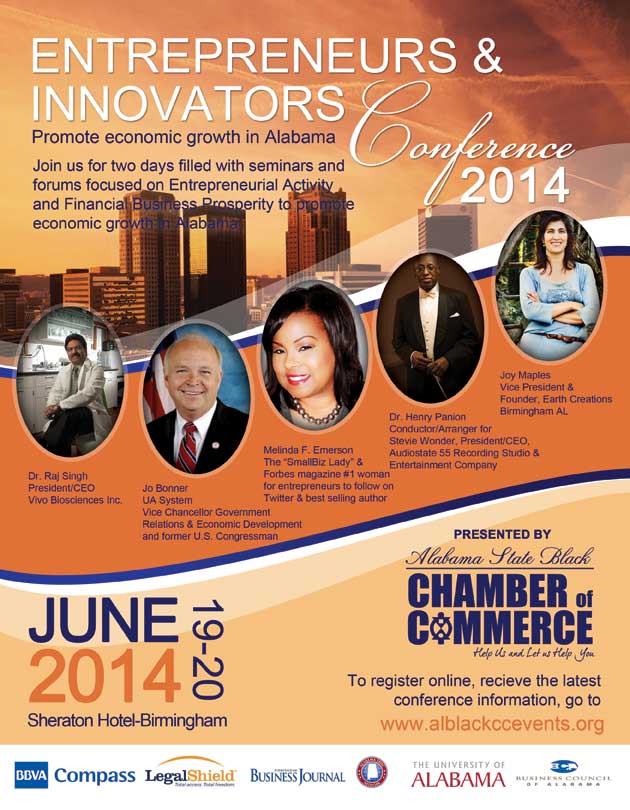 Hosted by the Alabama State Black Chamber of Commerce (ASBCC) at the Sheraton Hotel Birmingham, the Entrepreneurs & Innovators Conference features more than 20 speakers from various areas including biotech/life science, public relations and  media, economic development, franchising, music and entertainment, fashion apparel and retail, home-based business, and  business advocacy.
"Entrepreneurial activity is key to creating jobs in Alabama's economic future," says Jerry Mitchell, President and CEO of the Alabama State Black Chamber of Commerce.
"Whether urban or rural, native-born or transplant, entrepreneurs and innovators are not constrained by socioeconomic limitations; they come from all segments in our state. It's up to all of us to foster the right environment for business development and growth," Mitchell says.
One highlight of the conference is the Birmingham City high school student business plan competition.  Winning students will be awarded a cash stipend and assigned mentors to aid them with the development of their business concept.
Conference speakers include:
Former U.S. Congressman Jo Bonner, who represented Alabama for 10 years, now the Vice Chancellor for Government Affairs and Economic Development for the University of Alabama System ;
Melinda F. Emerson, a former TV news producer who began her own business and is known as the "SmallBizLady," one of America's leading small business experts as a seasoned entrepreneur, professional speaker, business columnist, and social media strategist whose mission is to end small business failure, author of the bestseller,  Become Your Own Boss in 12 Months; A Month-by-Month Guide to a Business That Works and publisher of the resource blog  www.succeedasyourownboss.com;
Everett Hall, fashion maven owner who, at the age of 13, began designing clothes and started a fashion company whose Black Label couture includes boutiques with suites of the finest Italian cloth and dressed leading men including Nelson Mandela, Tyler Perry, Blair Underwood, athletic icons Sugar Ray Leonard, Emmett Smith and Patrick Ewing, among others;
Dr. Henry Panion III, professor of music at the University of Alabama at Birmingham whose work helped produce two Grammy awards and two Dove awards, the creative force behind Grammy-nominated "Gospel Goes Classical" featuring Juanita Bynum and Jonathan Butler, conductor and arranger for superstar Stevie Wonder as well as Chaka Khan and American Idol winner Ruben Studdard, guest conductor in many of the world's most notable orchestras, and President and Founder of Audiostate 55 Recording Studios & Entertainment Company and the Gospel Symphony Collection;
Loren Mulraine, law professor at Belmont University College, gospel artist whose projects include the Grammy award-winning "Tribute: The Songs of Andre Crouch," and entertainment lawyer based in Nashville, TN, whose clients have included Grammy and Dove award-winning songwriters, record labels, producers, management companies and recording artists;
Shelley Stewart, an author born in poverty in Rosedale (a black suburban enclave of Birmingham), radio personality during the tempestuous Civil Rights Movement of the '60s and now CEO of O2Ideas, one of the nation's leading marketing, advertising and public relations firms based in Birmingham;
Michelda Johnson, President, CEO and Founder of Innovative Consulting, JEM Enterprises, Inc. (d/b/a Edible Arrangements), with over 20 years of practical business experience as a certified human resources professional and consultant to Fortune 500 companies; and
William J. Canary, President and CEO of the Business Council of Alabama, the state's largest advocacy and lobbying group on behalf of large and small businesses.
Conference sponsors include: BBVA Compass Bank, LegalShield, and the Alabama Small Business Development Consortium at the University of Alabama.
[highlight ]About the Alabama State Black Chamber of Commerce[/highlight]
The ASBCC (www.alblackcc.org) is committed to advancing the economic, intellectual and social conditions of its affiliate chambers and members, and the communities they serve throughout Alabama. The ASBCC affiliates include the Greater Birmingham Black Chamber of Commerce, the North Alabama African American Chamber of Commerce, the Southeast Alabama Black Chamber of Commerce, and the Tuscaloosa Area Black Chamber of Commerce.
For more information about the conference, please visit www.alblackccevents.org.
2690 Total Views
1 Views Today