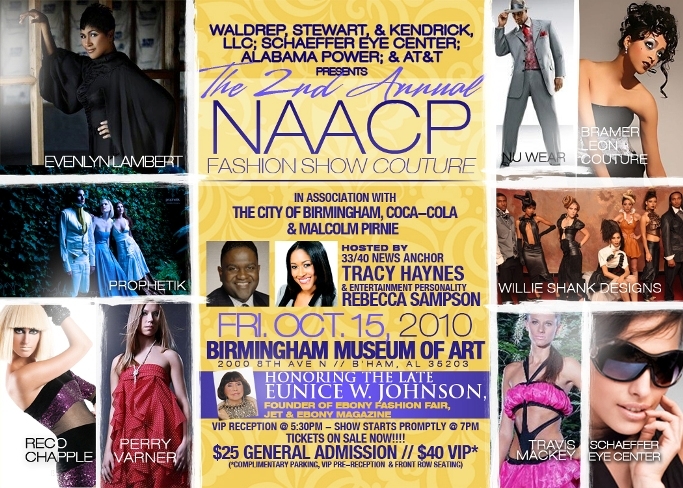 The 2nd Annual NAACP Fashion Show Couture – An Evening of Elegance — takes to the runway on Friday, October 15, 2010 from 7:00pm – 10:00pm at the Birmingham Museum of Art.
Local designers feaured in this year's show includes Perry Varner, Willie Shank, and Travis Mackey as well as national designers including:
Reco Chapple of Bravo TV's Fashion Show;
Leon Bramer Couture of Ebony Fashions Show;
Jeff Garner of Prophetik ‗Sustainable Clothing Line; and
Evelyn Lambert of Bravo TV's Housewives of Atlanta.
This year's show pays special tribute to the Pioneer of Ebony Fashion Fair, the Late Eunice W. Johnson. "Without her vision and her belief in doing things her way — with style – Black Fashion wouldn't exits," according to a statement on behalf of her daughter, Linda Johnson Rice, Chairman & CEO of Johnson Publishing Company and the Johnson Publishing Company Family. "We are honored to be a part of this event. Also, we are ecstatic that the Late Eunice W. Johnson's body of work recognized."
For more information on the 2nd Annual NAACP Fashion Show Couture 2010 please visit www.naacpfashionshow.org
###
FOR MORE INFORMATION CONTACT:
Andrew Wyatt, Media Consultant- Purpose PR Firm 205-422-5573 purposeprfirm@yahoo.com
Patricia Pickett, South Models, LLC 205-305-8912 pdpickett@gmail.com
Johnson Publishing Company Home of EBONY/JET Magazine & Fashion Fair Cosmetics
EBONY Magazine, the No. 1 magazine for African-Americans, is published monthly and reaches over 12 million readers. Published by Johnson Publishing Company, Inc., the largest Black-owned publishing company in the world, EBONY was founded in 1942 by the late Publisher and Chairman John H. Johnson and the late Eunice W. Johnson. Linda Johnson Rice is President and CEO. Under her leadership, the company remains the No. 1 African-American owned-and-operated publishing company in the world. For more information on Johnson Publishing Company, visit www.johnsonpublishing.com.
Honoring Eunice W. Johnson (April 14, 1916 – January 3, 2010)
Eunice W. Johnson, the creator of the Ebony Fashion Fair, a celebrated annual tour of nearly 200 cities that has showcased haute couture and ready-to-wear fashion for a mostly African-American audience for more than 50 years. Mrs. Johnson, who was also one of the first entrepreneurs to market cosmetics made particularly black women. What started as a favor to a friend — production of a fashion show to raise money for a hospital in New Orleans in 1958 — evolved into a grand traveling tour that has brought the latest creations from designers like Christian Dior, Yves Saint Laurent, Oscar de la Renta and Valentino to runways throughout the United States, Canada and the Caribbean.
Eunice Walker was born in Selma, Ala., on April 4, 1916, one of four children of Nathaniel and Ethel McAlpine Walker. Her father was a physician, her mother a high school principal. She graduated from Talladega College in Alabama in 1938 with a degree in sociology, and earned a master's degree in social work from Loyola University in Chicago in 1941. She met Mr. Johnson at a dance in Chicago in 1940, and they married after she graduated from Loyola. She died on January 3, 2010 at home in Chicago at the age of 93.
986 Total Views
1 Views Today