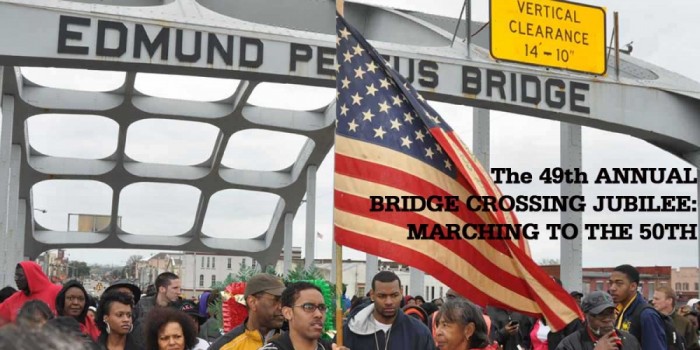 The Annual Bridge Crossing Jubilee, which commemorates the anniversary of Bloody Sunday, the Selma-to-Montgomery March and the passage of the 1965 Voting Rights Act, will take place March 6-10, 2014, in Selma, AL.
The 49th commemoration kicks off on Thursday March 6th with a traditional mass meeting at the Tabernacle Baptist Church in Selma with speaker Rev. William Barber, the head of the North Carolina NAACP State Conference and leader of North Carolina's Moral Mondays.
Other events over the four days include: a music and street festival with live entertainment and vendors, the annual Unity Breakfast with a featured guest speaker; the Freedom Flame Awards honoring heroes from the past and those continuing in the legacy of past heroes including actor Lou Gossett Jr. and former Atlanta mayor Shirley Franklin; an Education summit, a Youth Summit and the annual re-enactment of the Bridge Crossing (download the full schedule here).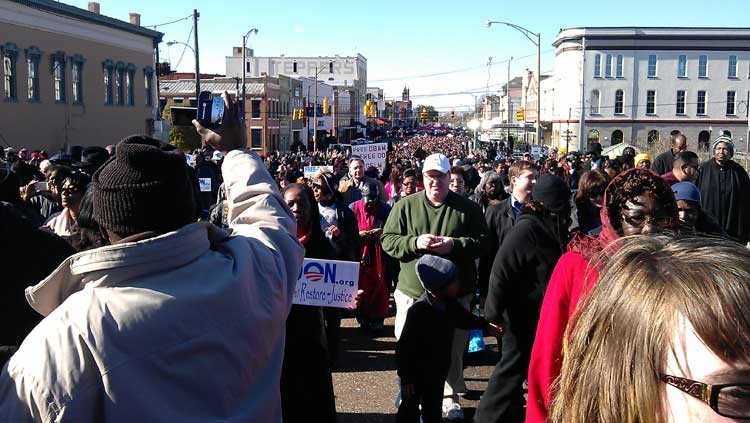 The four-day commemoration concludes with the ceremonial crossing of the Edmund Pettus Bridge, which attracts thousands of pilgrims from around the country, including celebrities like Tyrese Gibson, Terence Howard and Vivica Fox. U.S. Congressman John Lewis leads an annual pilgrimage to Selma of fellow congressional leaders and other officials. Past officials include then-Sens. Barack Obama and Hillary Rodham Clinton, former President Bill Clinton, and current Vice President Joe Biden, as well as local congressional leaders and elected officials. Activists Rev. Jesse Jackson and Rev. Al Sharpton have also been regular attendees.
Lewis was among the scores of young organizers from the Student Nonviolent Coordinating Committee (SNCC) and the Southern Christian Leadership Conference (SCLC) who worked with Selma activists to register African Americans to vote. Violent resistance to their campaign resulted in the beatings of marchers who crossed the Edmund Pettus Bridge on March 7, 1965, en route to Montgomery, Alabama's capital city, to demand their unfettered right to vote. "Bloody Sunday" provoked national outrage and outpouring of sympathy, with thousands of marchers who later completed the trek. The events in Selma led to the passage of the 1965 Voting Rights Act.
The Freedom Flame Awards on March 8, 2014 at 7:30 PM at the Selma Convention Center honor the women and men who have contributed to the tremendous legacy activism in the struggle for and voting rights and social justice. The awards also honor those whose work continue the legacy of the Civil Rights Movement. Past recipients include Harry Belafonte, Marian Wright Edelman, Andrew Young, C.T. Vivian, Winnie Mandela and Amelia Boynton-Robinson, who nearly died after being gassed on Bloody Sunday.
Actor Lou Gossett Jr., former Atlanta Mayor Shirley Franklin and veteran Civil Rights activists, husband and wife team Charles and Shirley Sherrod are the notable honorees among those being honored with the Freedom Flame Award.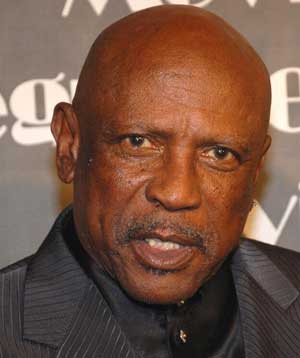 Lou Gossett has been performing professionally for six decades. He attended college on a basketball scholarship and had interest from professional teams. However, he ultimately chose acting and made his Broadway debut in the production of A Raisin in the Sun featuring Sidney Poitier. Gossett has had an illustrious career garnering him numerous accolades and awards, including his 1982 Academy Award for his supporting role in "An Officer and a Gentleman" alongside Richard Gere. He is probably most remembered for his character "Fiddler" in the epic family mini-series Roots that won him an Emmy award in 1977. In 2006, Lou Gossett founded the Eracism Foundation. The mission of the organization is to eradicate the systematic impacts of all forms of racism by providing programs that foster cultural diversity, historical enrichment, education, and antiviolence initiatives. Mr. Gossett will be honored for his groundbreaking contributions to African-American cinema and his tireless social justice work through his foundation.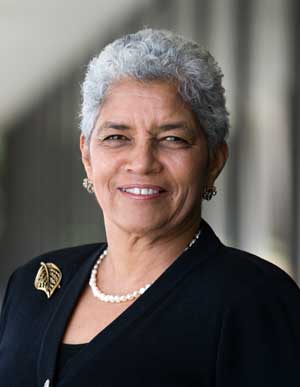 Shirley Franklin was the first African American woman elected mayor of Atlanta and the only Black woman to ever be Mayor of a major Southern city. Franklin served as mayor after civil rights veteran Andrew Young and developed a strong track record for serving the underserved and protecting the environment. In 2005, Time Magazine named her one of the five best mayors in the country. Since leaving office, Mayor Franklin has taught at Spelman College as the Bill and Camille Cosby Endowed Chair and at the University of Texas at Austin as the Barbara Jordan visiting Professor in Ethics and Political Values in the LBJ School of Public Affairs. She is currently the Board Chair and CEO of Purpose Built Communities, a non-profit consulting firm dedicated to transforming struggling neighborhoods into vibrant, sustainable communities where everyone has the opportunity to thrive. In 2013, she was named Senior Advisor for Ready for Hillary, a national grassroots organization dedicated to encouraging former Secretary of State Hillary Clinton to run for President.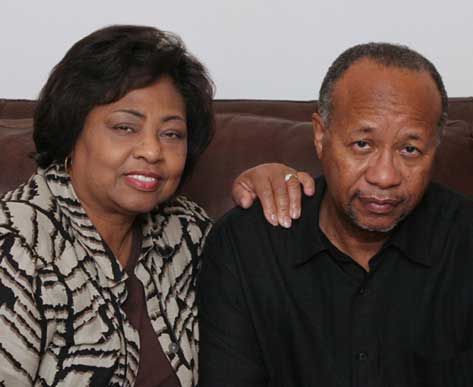 Charles and Shirley Sherrod have been active in Civil Rights work for more than 50 years. Charles Sherrod was an early leader in the Student Nonviolent Coordinating Committee (SNCC) in Albany, GA and was responsible for much of the work done in that community. Shirley Sherrod joined the movement in 1965 after her father was killed by a white man who was never charged with his murder. She was also a dedicated member of SNCC throughout the Movement. In 2009, while serving as the USDA State Director for Rural Development in Georgia, she was targeted by ultra-conservative tea party activist Andrew Breitbart who attempted to smear her on the internet by distorting a video of her and labeling her a racist. The Obama administration fired her, but later apologized after learning the context of her actual remarks. The administration offered her another job, which she declined.
Other Freedom Awards honorees include:
Constance Curry, author of "Silver Rights" and the only white woman in the leadership of Student Non-Violent Coordinating Committee (SNCC);
Rev. C.D. Witherspoon, Baltimore pastor and activist and head of the Baltimore Chapter of the Southern Christian Leadership Conference, making headlines for his civil and human rights work including working on voting rights;
Frank Smith , civil rights activist and elected official who was a member of the SNCC and participated in Freedom Summer;
Rev. William Barber, president of the North Carolina NAACP State Conference and leader of "Moral Monday," the burgeoning social justice movement spreading across the South; and
Dr. Thomas Earl Gilmore, Sr., a former member of the SCLC  and the first African American sheriff in Alabama who adhered to the philosophy of non-violence so much that he opted  to wear a suit instead of a uniform and didn't carry a gun.
The Freedom Flame Awards is a ticketed event and fundraiser with proceeds going to benefit the Bridge Crossing Jubilee planning efforts.
Get tickets and learn more about other commemoration events, visit www.bcjubilee.org or call (334) 526-2626.
Contact: Carolyn Gaines-Varner, attgainesvarner@gmail.com or Tarana Burke, justbeinc@gmail.com.
3082 Total Views
3 Views Today